Jurassic World
JURASSIC WORLD TRACK 'N ROAR INDORAPTOR MASK
Fans can experience new levels of dinosaur role play with this Jurassic World Indoraptor mask with dramatic features that's based on the iconic villain from Jurassic World: Fallen Kingdom. The mask has a red tracker light at the left temple projects a dinosaur target for actively tracking 'prey' and is part of the tracking gear over the left eye. With dark textured skin and overlapping teeth, the fierce Indoraptor head is ready for terrifyingly fun play. There are movie-authentic roars to augment the realistic feel. Designed for fans 4 years and up. Colours and decorations may vary.
Sale price
$44.99 AUD
Regular price
Unit price
per
View full details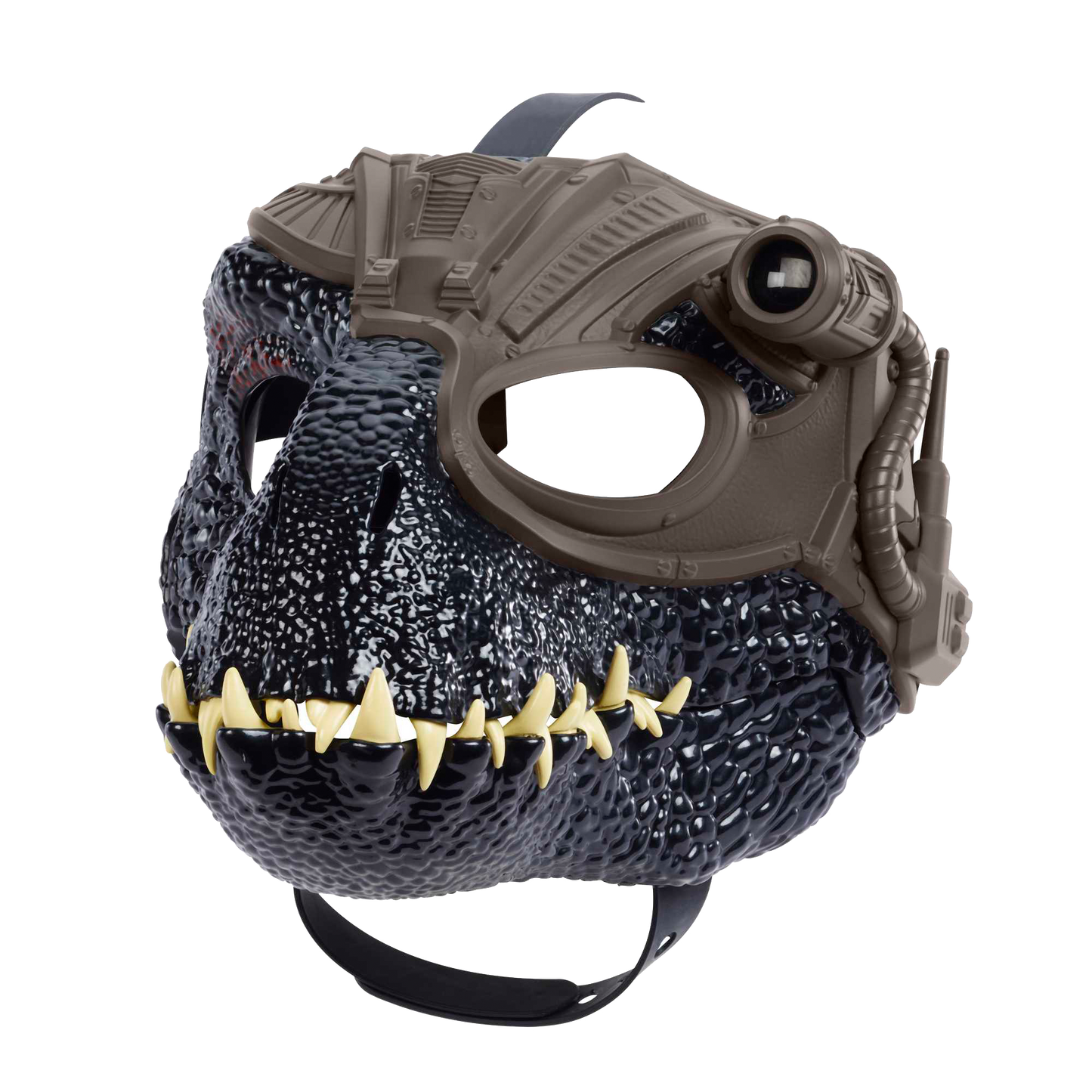 Subscribe & save 10% on your first order
Free Shipping on orders over $65
Total 5 star reviews: 20
Total 4 star reviews: 4
Total 3 star reviews: 0
Total 2 star reviews: 1
Total 1 star reviews: 0
Raylansmom

Verified Buyer

Dino Lovers Dream

My 6 year old has wanted a dino mask forever and this did not disappoint. Very well constructed and details are amazing. Teeth look real. I do wish the tracker light wasn't automatic. My little is on the slender side and even with it tightened all the way the mouth wont open to full range. Doesnt seem to bother him.

Merry

Verified Buyer

The laser can hurt your eyes

My 7 year old son is in love with this mask. It fits him well. The chin strap is easy enough that he can do it on this own, too, which is a major plus. When you open your mouth while wearing the mask, it lets out a dinosaur sound as the mouth opens and the red light turns on, casting a raptor on the wall in front of you.

The only reason why I'm knocking off a star is because the red laser light can seriously blind you if your child is standing in front of you or another child and they do and look directly into the light. While it's a cool feature and my son likes it, I'd rather do without. He stood in front of me while I was sitting down and it took a minute for my eye to stop seeing red. I can't imagine a child wouldn't try to look into it who doesn't know better. So, it would be better without that feature.

Overall, it's fun. It has a real raptor look on one side and a more mechanical look on the other, where the light is.

MNMomof2

Verified Buyer

Roaring good time!

This mask is so much fun! After adjusting the fit, my 8 year old loves running around with this on and roaring at everyone! Fits great, seems durable and is fun for all ages, not just the kids! Would absolutely buy as a gift or if another type was available.

Coa314

Verified Buyer

Cool effects, real sounds, durable with red laser

My daughter loves this mask! She has the original one. This one compares nicely to it. More open design and even better real life sound effects. She really enjoys the red beam with Jurassic park theme logo that shoots from it. Super neat toy! A must have for any Dino-loving child!

pluridium

Verified Buyer

A great mask for fans of Jurassic World!

My son just discovered Jurassic Park and we have been watching each of the movies. When he saw this mask he went nuts! The mouth opening and closing with his chin is cool as is, but adding the red tracking light takes this mask over the top!

This currently fits him (seven years-old) but I could see it being too big or too small depending on your child's face size. Also, the sounds are loud (for a kids' toy) and the light is bright, but if your kid is into dinosaurs will probably be okay with the noise!
Reviews Loaded
Reviews Added