About Us
The Home of Mattel: Empowering the next generation through play
About Shop Mattel Australia
Welcome to Australia's first exclusive destination for all things Mattel
Experience the ultimate destination for all things Mattel at Shop Mattel Australia, the official website offering a world of iconic brands including Barbie, Hot Wheels, Fisher Price, and Thomas & Friends. Dive into the magic of childhood and create lifelong memories with our unparalleled collection of Mattel products, exclusively at Shop Mattel Australia.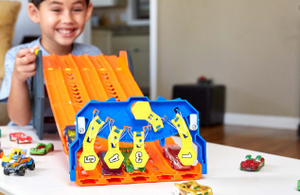 Our partnership
Mattel is the leading global toy company and owner of one of the strongest catalogues of children's and family entertainment franchises in the world.
We engage consumers through our portfolio of iconic brands, including Barbie, Hot Wheels, Fisher-Price, Thomas & Friends, and Mattel Games, as well as other popular intellectual properties that we own or license in partnership with global entertainment companies. Our offerings include film and television content, gaming and digital experiences, music, and live events. We operate in more than 35 locations and our products are sold in more than 150 countries in collaboration with the world's leading retail and E-Commerce companies.
Shop Mattel Australia is the official Home of Mattel for our Australian customers.


About Retail Prodigy Group
Retail Prodigy Group owns and operates Shop Mattel
Australia in partnership with Mattel Australia Pty Ltd bringing an exclusive online destination for toys and gifts.
Retail Prodigy Group also hold the master Retail Franchise for NIKE Stores across Australia and New Zealand

Since 2011, RPG has driven the rapid expansion of over 40 Nike Branded Stores including Flagships in George St, Sydney and Melbourne Central Shopping Centre.

In November 2020, RPG announced the partnership with Samsung as Retail Operations partner for the Samsung Experience Stores (SES) across Australia. RPG is constantly on the lookout for opportunities for growth through new Brands and new markets. Read more