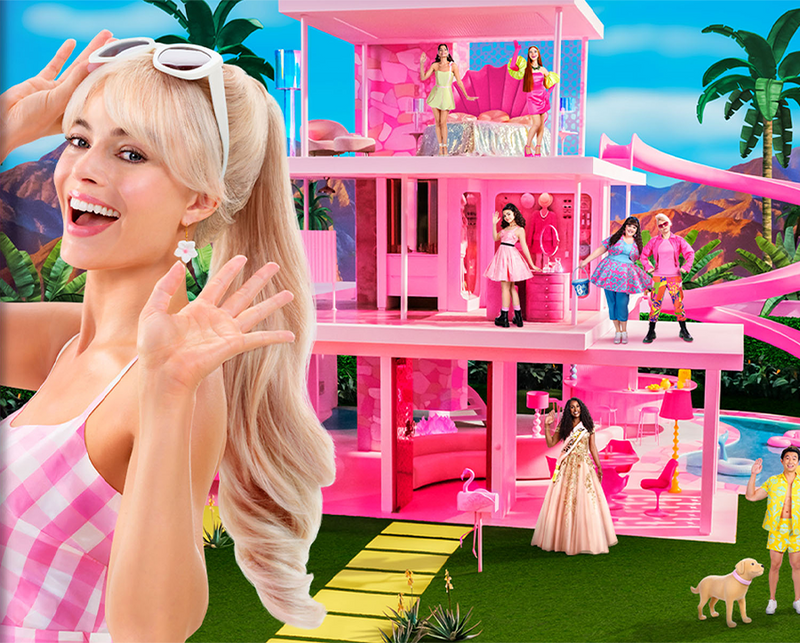 Mattel Announces New Product Collection to Celebrate the Upcoming Movie, Barbie
Mattel, Inc. announced today a new collection from across the portfolio of Mattel brands inspired by the highly anticipated film, Barbie™. Created in partnership with Warner Bros. Pictures, the upcoming movie, Barbie™, debuts in theatres nationwide July 20. Fans can now take home a part of the movie and play out even more stories with toys from brands including UNO®, Hot Wheels®, Fisher-Price®, MEGA™ and Barbie.

The line of Barbie™ the Movie dolls features looks fans will see in the movie, reflecting the signature styles of Barbie, Ken, and new characters as they traverse through Barbie Land and beyond. The collection emulates the Barbiecore™ and Ken-ergy™ felt in the feature film, from their first-look outfits to the matching sets worn in the movie. Best of all – the collection features several recognizable and must-have accessories, including a mini replica of the iconic three-story DreamHouse™ from MEGA and a stunning pink RC Corvette® from Hot Wheels.

"Barbie the movie is a monumental moment for the brand, and we cannot wait for fans to experience Barbie like never before on the big screen," said Lisa McKnight, Executive Vice President and Global Head of Barbie & Dolls, Mattel. "The new line of Barbie the movie Mattel toys perfectly captures the fun and joy of Barbie that is at the heart of the film. This collection allows fans of all ages to celebrate their favourite characters and scenes from the movie. What an incredible way to kick off the summer of Barbie!"

Barbie™ The Movie doll line includes:
Barbie The Movie Doll Pink Gingham Dress: Models a vintage-inspired pink and white gingham dress, complete with daisy chain necklace and pastel pink heart-adorned pumps.
Barbie The Movie Ken Doll Pastel Stripe Matching Set: Wears a beachy, pink and mint green striped matching set with surfboard in tow.
Barbie The Movie Doll Plaid Matching Set: Touts an impeccably coordinated three-piece matching pastel plaid set with puffy skirt, cropped jacket, and matching blouse.
Barbie The Movie Ken Doll Denim Matching Set: Clad in an all-Demin look with an open vest and matching light wash jeans, featuring a glimpse of iconic Ken boxers.
Barbie The Movie Doll Gold Disco Jumpsuit: Shines in a sequined disco jumpsuit featuring big disco hair, metallic jewelry and golden heels.
Barbie The Movie Doll Pink Western Outfit: Wears an eye-catching, Western-themed matching pink denim vest and flare jeans with a cowboy hat and boots.
Barbie The Movie Doll Gloria Pink Power Pantsuit: Looks fierce in a three-piece pink suit featuring satiny blazer, matching blouse, and pinstriped trousers with fashionably split cuffs.
Barbie The Movie Ken Doll Gold and White Disco Tracksuit: Embodies luxe quality and casual style in a white tracksuit with metallic gold color-blocked sleeves and a shiny "K" accent to add star power to the ensemble.
Barbie The Movie Doll President in Pink and Gold Dress: Wears a full, satiny gown that features a sparkly off-shoulder bodice and shimmery gold accents that trail down her skirt.
Barbie The Movie Fashion Pack: Includes three iconic Barbie outfits from the movie: a blue and white sundress, gingham pink blouse and short set, and dreamy pajama outfit.
Barbie The Movie Pink Corvette Convertible: Featuring a curvy retro silhouette and pink paint job, with film-inspired details like white wall tires and chrome rimes.
Along with Barbie items inspired by the characters in the movie, Barbie™, Mattel is also releasing a collection of products celebrating the live action feature film across the larger Mattel portfolio, including:
UNO Barbie The Movie: Deck features graphics inspired by characters and scenes from Barbie The Movie – including a special "Played With Too Much" rule that will have players both discarding and drawing cards
Little People Collector Barbie The Movie: Bringing four of the film's iconic characters down to Little People figure size and styled in memorable outfits including Barbie, President Barbie, Ken, and Gloria.
Barbie The Movie MEGA Dreamhouse: Buildable replica of Barbie's iconic 3-story DreamHouse as seen in the film, including spiral staircase, pool, and slide.
Barbie The Movie Hot Wheels RC Barbie Corvette: Radio-controlled 1956 Corvette Stingray that can fit two Barbie dolls to create authentic road trips with Barbie.
Barbie The Movie Hot Wheels Die-Cast Pink Corvette in 1:64 Scale: Features Barbie deco – in Barbie pink – as a Hot Wheels 1:64 scale die-cast car.
In continued celebration of the film, Mattel will also be releasing an array of movie-themed products with over 100 brand partners across fashion, beauty, accessories and more starting this month.

About Barbie The Movie
To live in Barbie Land is to be a perfect being in a perfect place. Unless you have a full-on existential crisis. Or you're a Ken. Warner Bros. Pictures Presents A Heyday Films Production, A LuckyChap Entertainment Production, An NB/GG Pictures Production, A Mattel Production, "BARBIE," directed by Greta Gerwig, starring Margot Robbie, Ryan Gosling, America Ferrera, Kate McKinnon, Issa Rae, Rhea Perlman, and Will Ferrell. The film is written by Greta Gerwig & Noah Baumbach, based on "Barbie" by Mattel, and produced by David Heyman, Margot Robbie, Tom Ackerley and Robbie Brenner. The executive producers are Gerwig, Baumbach, Ynon Kreiz, Richard Dickson, Michael Sharp, Josey McNamara, Courtenay Valenti, Toby Emmerich and Cate Adams. The film will be distributed worldwide by Warner Bros. Pictures and released in theaters only nationwide on July 21, 2023 and internationally beginning 19 July 2023.

About Mattel
Mattel is a leading global toy company and owner of one of the strongest catalogs of children's and family entertainment franchises in the world. We create innovative products and experiences that inspire, entertain, and develop children through play. We engage consumers through our portfolio of iconic brands, including Barbie®, Hot Wheels®, Fisher-Price®, American Girl®, Thomas & Friends®, UNO®, Masters of the Universe®, Monster High® and MEGA®, as well as other popular intellectual properties that we own or license in partnership with global entertainment companies. Our offerings include film and television content, gaming and digital experiences, music, and live events. We operate in 35 locations and our products are available in more than 150 countries in collaboration with the world's leading retail and ecommerce companies. Since its founding in 1945, Mattel is proud to be a trusted partner in empowering children to explore the wonder of childhood and reach their full potential.