Minecraft
MINECRAFT LEGENDS DEVOURER Figure
Capture the excitement of Minecraft Legends and devour the Overworld with this huge action figure of the Devourer with vomit attack! This set includes the daunting Devourer figure spewing slime as well as the 3.25 in-scale heroic Ranger figure, ready to fight and defend! Attach the mushroom spore to the Devourer, load in the slime, and get ready to puke! Next, squeeze the mushroom spore to vomit all over the included Ranger. These figures are authentic to their Minecraft Legends video-game counterparts -- plus, fans will enjoy the large size of this super-bad villain! Colours and decorations may vary.
Sale price
$55.99 AUD
Regular price
$69.99 AUD
Unit price
per
View full details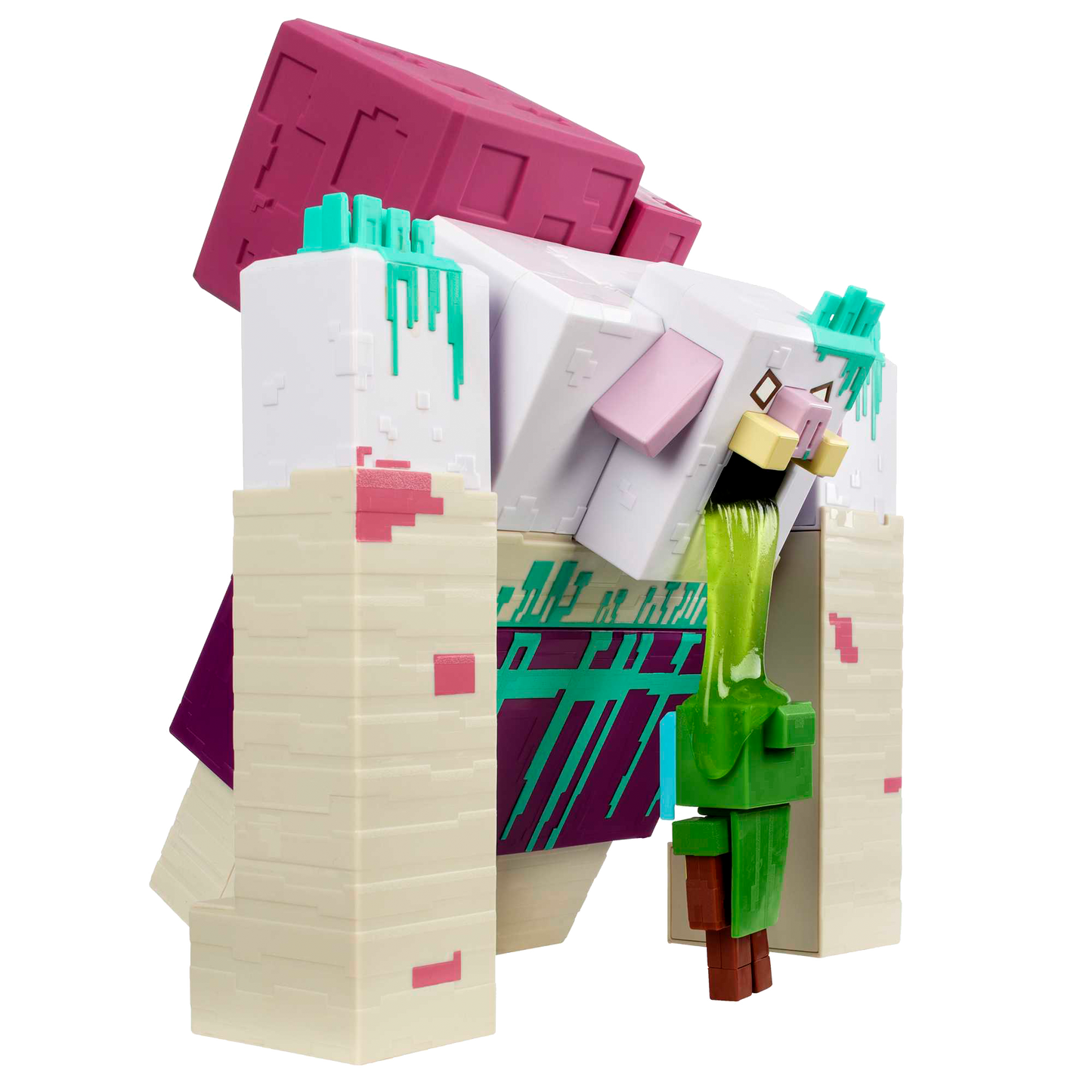 Subscribe & save 10% on your first order
Free Shipping on orders over $65
Total 5 star reviews: 11
Total 4 star reviews: 9
Total 3 star reviews: 4
Total 2 star reviews: 0
Total 1 star reviews: 0
The Minecraft Legends m.

Verified Buyer

Wonderful fun

High quality, good for play, accurate-ish to the game. Recommended.

Jessica724

Verified Buyer

Fun

My son absolutely loves anything Minecraft. He has so much fun with all of Mattel's Minecraft toys. This was another hit for him as well. The only downside is, as with anything with slime, it's a bit messy and a pain to clean up. But still overall a fun toy!

Monkeysmama1

Verified Buyer

A new addition to Minecraft adventures

I recieved the MINECRAFT LEGENDS DEVOURER Figure to review through Mattel's Play, Rate, & Review program. My child was excited by how big it was when it arrived (almost 10 inches) and that it came with an extra 3 inch figure/player. My child isn't a big fan of slime, but took a chance and found it "satisfying." I am happy to say it is not too sticky, and easy to clean up from the toy and the play surface (I put wax papet down to be safe, but the little that got on the table easily came off). It can be difficult to open the slime compartment at the top, but my child pried it open with a pen. Once the slime is in, gravity starts to pull it out of the Devourer's mouth, and my child said it would be better with a lever to push it down. When you squeeze the cubes on it's back, it creates air bubbles in the slime. The Devourer continues to join in Mindcraft adventures around my house.

jdenmead818

Verified Buyer

Minecraft is a hit in our house

This toy was a big hit in our house. Well until Mom acccidentally threw away the slime the came with it. My 5 year old has recently really gotten into Minecraft and has been asking for toys to play with. He paired this with another new toy he got that day and created stories with them for several hours. It would be great if there were refills made for the slime.

Shop Mattel Australia

3 months ago

Please reach out to our Customer Support team for help: https://shop.mattel.com.au/pages/contact

fairydealmother

Verified Buyer

Fun! (but maybe we'll play without that slime ??)

This is a fun toy! I was pleasantly surprised by how big the Devourer figure was! Like 10 inches, with bulky movable arms. It looks fantastic sitting on the shelf when the kids aren't playing with it. The ranger (3.25") is a great size compared to some of the smaller Minecraft figs on the market.

Now, the slime. It is bright green, sufficiently viscous, goopy slime. It's a fun idea because of course, slime makes everything better -- the mushroom spore basically blasts air into the top chamber to push/puke slime out of the Devourer's mouth. Genius! But -- it also doesn't work super well- more like slime oozing out by gravity. Lol maybe it's for the best since this stuff is definitely gonna stain.

Both the Devourer and the Ranger are also well made, as far as construction and sturdiness. The ranger is articulated, with movable head and limbs, but I'm surprised that they made it with so many crevices that you can't get the slime out of. Also surprising considering the Devourer's slime chamber is so smooth and decently easy to clean out. I doubt we'll use the slime often, but in the meantime this set is gonna get great rotation in my 7 and 9 yr olds' off-screen Minecraft playtime!
Reviews Loaded
Reviews Added