Monster High
Monster High Frankie Doll
School is back in session, and the Monster High ghouls are showing up in scream-tastic style! Frankie Stein doll struts down the Monster High hallways in an electrifying fashion featuring a plaid skirt, lightning bolt-printed blouse and stitch-detailed vest. Their freaky-fabulous look is complete with chunky platform sneakers, creeperific accessories and a prosthetic leg and stitch details celebrating their unique style. Take Frankie Stein doll's look to the next level with a voltageous varsity jacket and electrifying accessories. Plus, inspire spooktacular storytelling with their creepy-cute pet dog, Watzie! Doll cannot stand alone. Colours and decorations may vary.
Sale price
$37.59 AUD
Regular price
$46.99 AUD
Unit price
per
View full details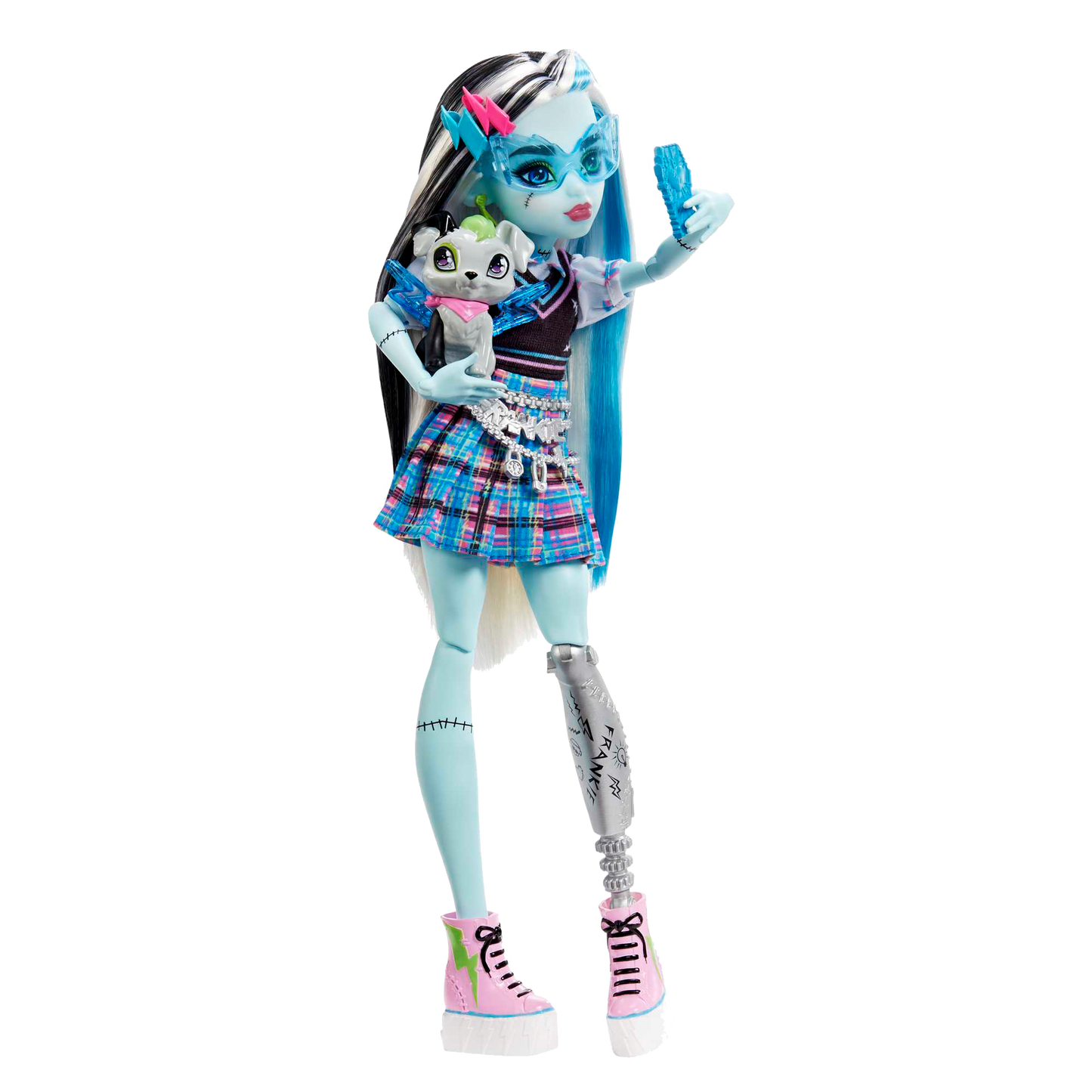 Subscribe & save 10% on your first order
Free Shipping on orders over $65
Total 5 star reviews: 29
Total 4 star reviews: 7
Total 3 star reviews: 3
Total 2 star reviews: 0
Total 1 star reviews: 0
Thatdollboy

Verified Buyer

Thank you Mattel

When the new Frankie was confirmed non binary I almost cried (at the time I was non binary) I love the representation and it makes me happy to show representation on a kids show :) (got the doll in September 2023)

EzraDear

Verified Buyer

Cute, but poor production

I was so excited for this doll, and I do love the design and Monster High as a whole! Unfortunately, the doll I bought has a few problems. Firstly, the arms are very stiff and feel like they're about to break when you try to move them, the legs are much the same but easier to move. The jacket is also too big for the doll and has loose threads. I'm not exactly sure if the backpack is meant to open, but if it is it's very difficult to open! That might be user error though, not necessarily the dolls. Despite this, though, I love the doll! They're so cute and the little accessories are very easy to put on and look nice when they are held. The clothes (besides the jacket) fit nicely and are perfectly designed. Overall I do like the doll, I just wish some of these problems could have been solved.

Shop Mattel Australia

6 months ago

Please reach out to our Customer Support team for help: https://shop.mattel.com.au/pages/contact

momma2019

Verified Buyer

2nd Daughter Who Loves Frankie!

I bought her for Christmas for my 3y/o.

This was and still is the favorite present. Monster High is huge in my house.

This is our 2nd go round with Monster High-we even have original dolls to blend in.

Thank you for bringing this back

MonsterHighFan123

Verified Buyer

They are drops dead gore-geous

I received Frankie as a holiday gift and I couldn't love them more. I did notice the printing on their legs rubbing off a bit but was able to stop it with nail polish. About 2 weeks after I opened them, I was showing my friends that their limbs are removable and their hand broke. Overall, I really love them :)

Shop Mattel Australia

9 months ago

Sorry to hear this! Please reach out to our Customer Support team for help: https://shop.mattel.com.au/pages/contact

SapphireRose16

Verified Buyer

Everything you need to know

So I bought this doll on Amazon and it took almost a month to come in. After I got her I took a good look at her and I must say, I'm kinda in love. I have always loved Frankie every sense G1 so here are a few of my pros and cons. I really enjoy the color scheme that they kept and the doll itself is built very well. Her hair wasn't as horrendously glued down as some of the others and I also enjoy how tall she is! However, I was a little disappointed with the fact she doesn't have her neck bolts anymore as that was a signature Frankie piece. Another things was how large her head is, I don't know why it just seems bigger. Anyways overall it's an amazing doll and I recommend!
Reviews Loaded
Reviews Added