Fisher-Price
Imaginext Jurassic World Mega Stomp & Rumble Giga Dino
Kids can roar into epic Jurassic World Dominion adventures with the Imaginext Mega Stomp & Rumble Giga Dino toy from Fisher-Price. With fierce light-up eyes, awesome head-thrashing and stomping action, and a super-loud roar that makes his whole body shake, this giant Giga dinosaur is fully kid-controlled to bring all their Jurassic World stories to life. Kids can roll the dino forward to break him free from the chain and watch him stomp and roar along after Owen!
View full details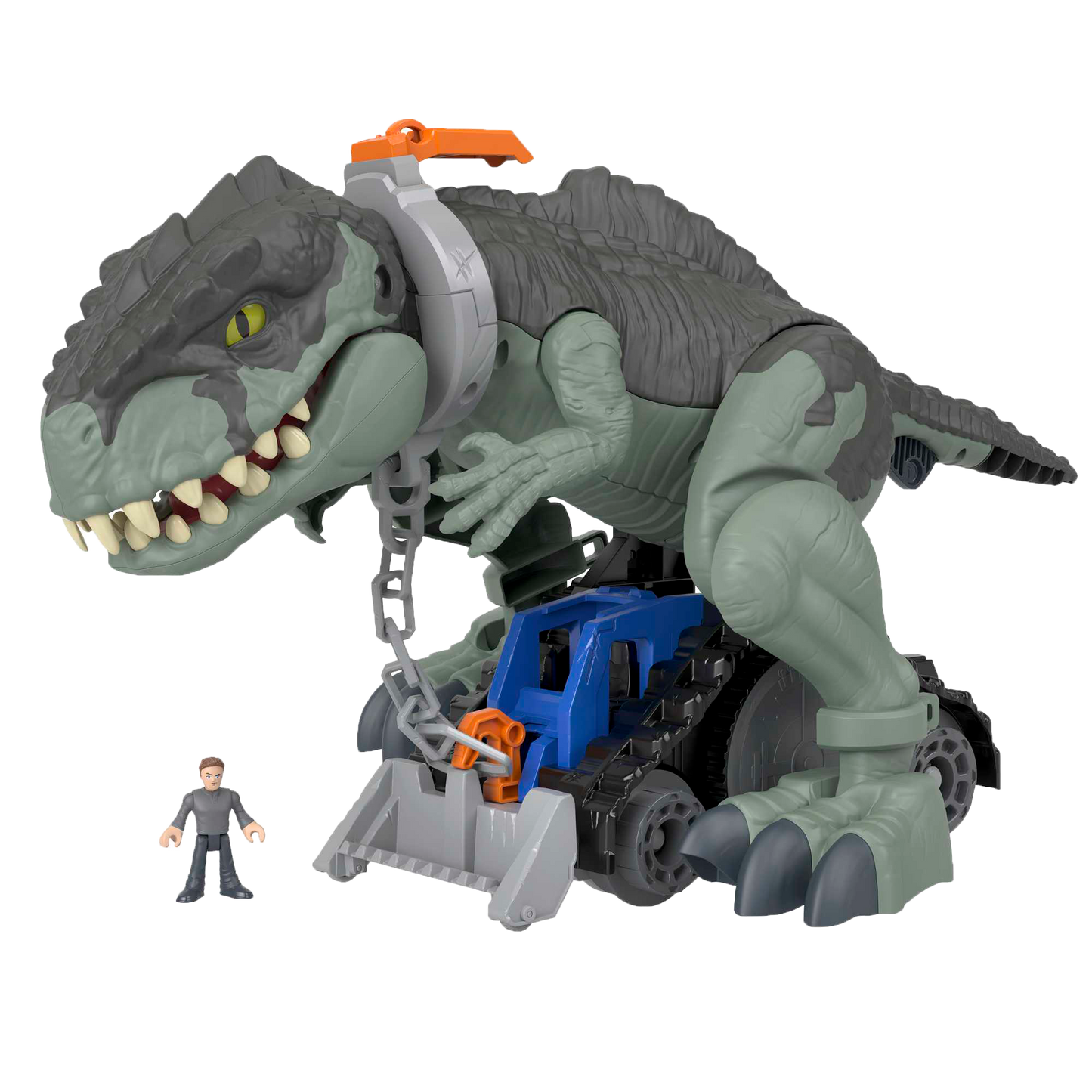 Subscribe & save 10% on your first order
Free Shipping on orders over $65
Total 5 star reviews: 20
Total 4 star reviews: 4
Total 3 star reviews: 0
Total 2 star reviews: 1
Total 1 star reviews: 0
Tdavis

Verified Buyer

My Godson loved it!

I was running late trying to pick out a gift for my Godson's birthday party. Nothing really popped out to me till I picked the Giga Dino off the shelf I instantly knew he'd love it. When I walked into the house his eyes lit up like fireworks he was so excited to open it. I highly recommend this!

Ironwindow

Verified Buyer

I do not recommend this product

No longer roars

Bought this for my son for Christmas. We had a blast with it and we were really loving it. 3 weeks later, it no longer roars (or makes any sounds). I thought maybe the batteries were going dead so I put in a fresh set, this did not solve the problem.

The rest of the features seem to still work but what fun is a giant dinosaur if it doesn't roar?

As much as this thing cost, I expected it to last a lot longer than 3 weeks.

Shop Mattel Australia

9 months ago

We're so sorry to hear this! Please reach out to our Customer Support team for help: https://shop.mattel.com.au/pages/contact

CyndP

Verified Buyer

Nephew loves it!!

We bought this for my nephew, he is going to be 3 this month. He absolutely loves this thing!! Unfortunately he's lost the chain to it, I can not find a replacement one, if anyone knows how to get one I'd appreciate it!! He plays with this everyday!!!

Shop Mattel Australia

10 months ago

For replacement parts assistance, Please reach out to our Customer Support team for help: https://shop.mattel.com.au/pages/contact

nstandif

Verified Buyer

Rooooaaar! By far, the coolest ever!

My son, age 5, loves dinosaurs. He enjoys streaming videos about dinosaurs. The majority of his wardrobe is dinosaur themed. We've owned several dinosaur toys, even Imaginext ones.

This Gigantosauras is very impressive in several ways.

For one, it has no projectiles. It is all contained in a single unit. Some may balk at that, but, considering the reach of the jaw from the tail control, it certainly entertained my son enough not to mention it at all. I was grateful for that, since projectiles, even in the larger imaginext variety, can easily get lost under a couch and eventually lead to buyers remorse if you know what I mean. The only piece that separates is the chain. Somehow, Imaginext managed to make it fairly durable, so it won't bust out of repeated use. The included figurine is nestled safely within the unit during play time.

The dinosaur 'walks' using a wheel mechanism, which also pushes the cart underneath. The cart is fully fused to the dinosaur. For parents hoping for a separate bulldozer-like toy will probably be disappointed. Despite the tight coupling, however, there appears to be good cohesion between the two components. The wheels do not take much effort to move the Dino, even on carpet. Now, I would not recommend putting this toy, or any imaginext toy outside, because they're clearly intended for indoor use only.

Now, the glowing eyes, sound effects, and vibrations are what really make this toy stand out. They are all very noticeable and we're…

CourtK

Verified Buyer

Watch out for the Dino

Thanks to Mattel's play, rate and review program my children received the Imaginext Jurassic World Mega Stomp & Rumble Giga Dino for free for an honest review of the item. They love Imaginext toys and this dino is no exception. The Dino makes a roaring sound and it shakes and rumbles. The mouth opens up and down with the handle on the back so that other dino's can be placed inside. The dino is well made and it was hours of fun setting up different characters and knocking them over. This is a great toy and was enjoyed by my children.
Reviews Loaded
Reviews Added