Fisher-Price
Fisher-Price 3-in-1 Puppy Tummy Wedge
The Fisher-Price 3-in-1 Puppy Tummy Wedge helps make tummy time a little less "ruff" for your baby. This cute and supportive pup is always ready to play as your little one grows from tummy time to sit-at play, to early role-play "care" for their puppy pal. The plush dog tummy wedge features a crinkle panel and 3 activity toys, which help strengthen your baby's gross motor skills and engage their senses of sight, hearing and touch.
Sale price
$34.99 AUD
Regular price
$49.99 AUD
Unit price
per
View full details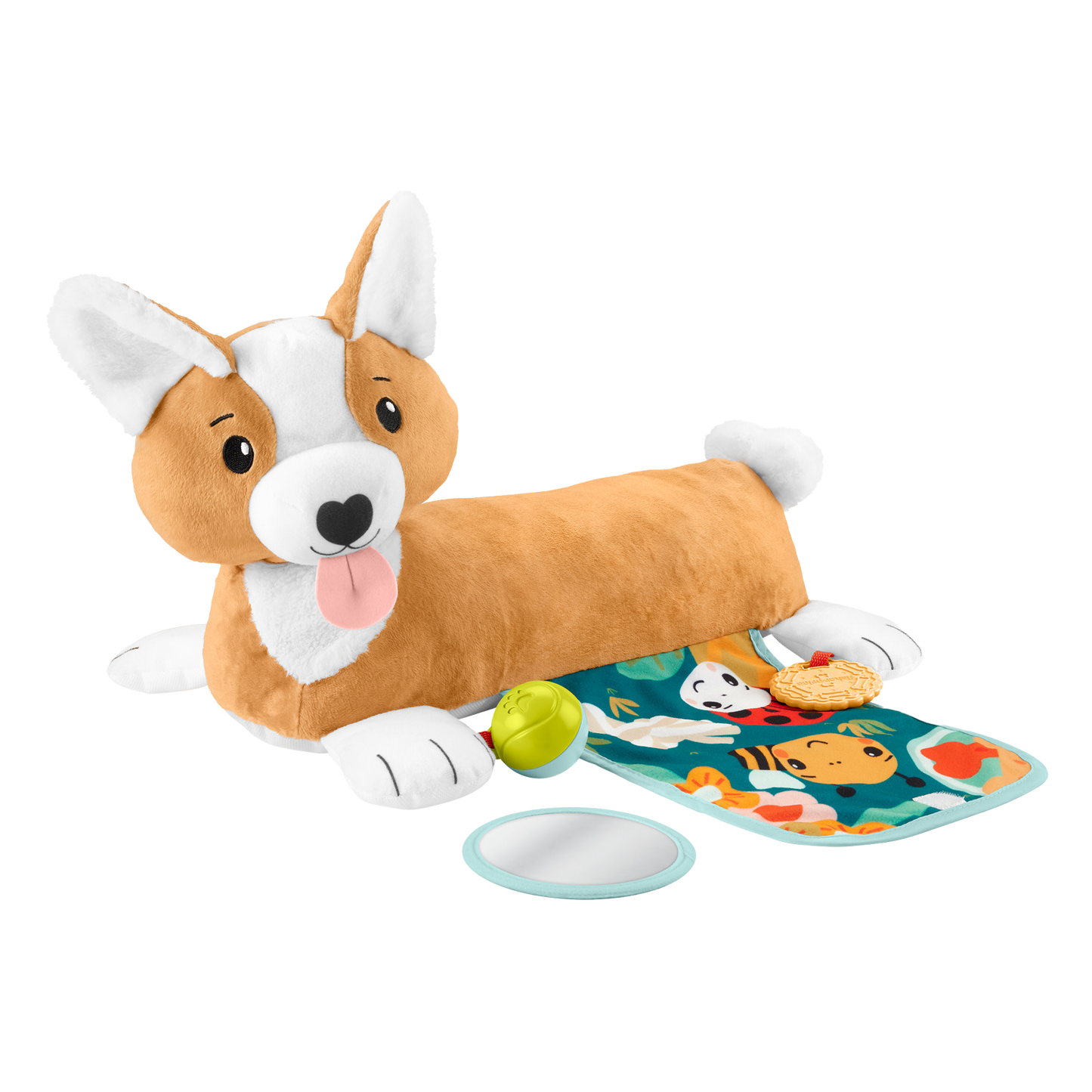 Subscribe & save 10% on your first order
Free Shipping on orders over $65
Description
Key Features
Technical Details
What's In The Box
Shipping & Returns
["
The Fisher-Price 3-in-1 Puppy Tummy Wedge helps make tummy time a little less "ruffâ€
Total 5 star reviews: 17
Total 4 star reviews: 5
Total 3 star reviews: 1
Total 2 star reviews: 1
Total 1 star reviews: 0
Sable C.

Verified Buyer

Dog pillow baby toy

My little boy loves this dog lounging pillow with toys dangling on it! Great for tummy time! It's soft and very good quality! Great for little babies!! We love this and the bright colors on it! Helps build those motor skills.

Chrisk

Verified Buyer

Wonderful 3 in 1 toy

I think the 3 and 1 puppy tummy wedge is absolutely adorable. My son absolutely loves it. I wish there was a little bit more stuffing in the puppy but he seems to do fine with it. There's 3 different ways that he can play on it. As an actual tummy time puppy he can sit up and he can also carry it around when it gets bigger. It has 2 toys that are attached to it one is a teething ring that looks like a doggy biscuit which is super cute and they can be removed the other 1 is ball and it rattles and it can also be removed. It also has a little mirror that you can take off it goes as well. I think it's an all around super cute toy with multiple functions.

cherrytree910

Verified Buyer

So Fun For Tummy Time!

This stuffed puppy for tummy time is so cute! It is nice and soft with just the right amount of firmness for a baby to prop up on for tummy time. My older kids used a moon shaped pillow for support. It never seemed to help them at all due to its low height. With this puppy, the greater height seems to be more supportive.

I really like the accessories. The rattle ball and teether dog biscuit both attach to the puppy's feet. The teether has the right amount of flexibility. I think it will be helpful when baby starts gumming things. The mirror fits in the pocket of the attached crinkle dog blanket. When the blanket is unfolded, the mirror sticks to the blanket, and baby can peer in.

One other thing I really like'the plush puppy is machine washable and dryable. I haven't needed to wash it yet, but I have no doubt that it will come out just fine.

My son has used this puppy for tummy time many times now. He really likes to look at himself in the mirror, rub his hand on the crinkle blanket, try to grab the biscuit, and even suck on the puppy's tail. As much as he seems to enjoy the puppy now for tummy time, I hope he continues to use it for the other intended purposes, such as put and take play or snuggling with pretend play. [I received the product for free through the Mattel Play, Rate & Review Program in exchange for my honest opinion.]

SweetT

Verified Buyer

Cute Tummy Time Toy

This is a cute tummy time toy that keeps my little one's interest. This little doggy has a ball that rattles, a biscuit that's good for teething, a mirror and a crinkle pad. While my little one prefers the ball, all of the attached toys promote learning and exploring. The pad easily wraps around the dog and the mirror can be tucked away for easy storage. I wish this product were just a little bit bigger but overall it's a cute, useful toy for baby.

shanandcam

Verified Buyer

A fun aid for tummy time!

The Fisher-Price' 3-in-1 Puppy Tummy Wedge is great for my young son to practice his 'tummy time'; it does help to make tummy time a bit more bearable and provide some entertainment/distraction during tummy time. My son likes playing with the 3 sensory toys, including the mirror - and likes it as a cuddle toy as well. It has a colorful panel with crinkle sounds that he enjoys. The pillow itself seems supportive and safe and I love that it is machine washable.
Reviews Loaded
Reviews Added