Disney Pixar
Disney and Pixar Cars Radiator Springs Tour
Inspired by the latest Disney+ series from Pixar, Cars On The Road, this Radiator Springs Tour playset revs up new adventures as Road Trip Lightning McQueen and Road Trip Mater drive through their iconic hometown. Kick-off their journey at Luigi's tire shop for a quick tune-up from Guido, then pass through Ramone's for a fresh paint job before filling up at Flo's V8 café. Wait for the light-up countdown to turn green, then they can race off on their road trip. Cars fans will have a blast reenacting their favourite moments from the series and creating new memories with various ways to set up the tracks. Kids can collect all the show and movie vehicles to play out adventures (each vehicle sold separately, subject to availability). Colours and decorations may vary.
View full details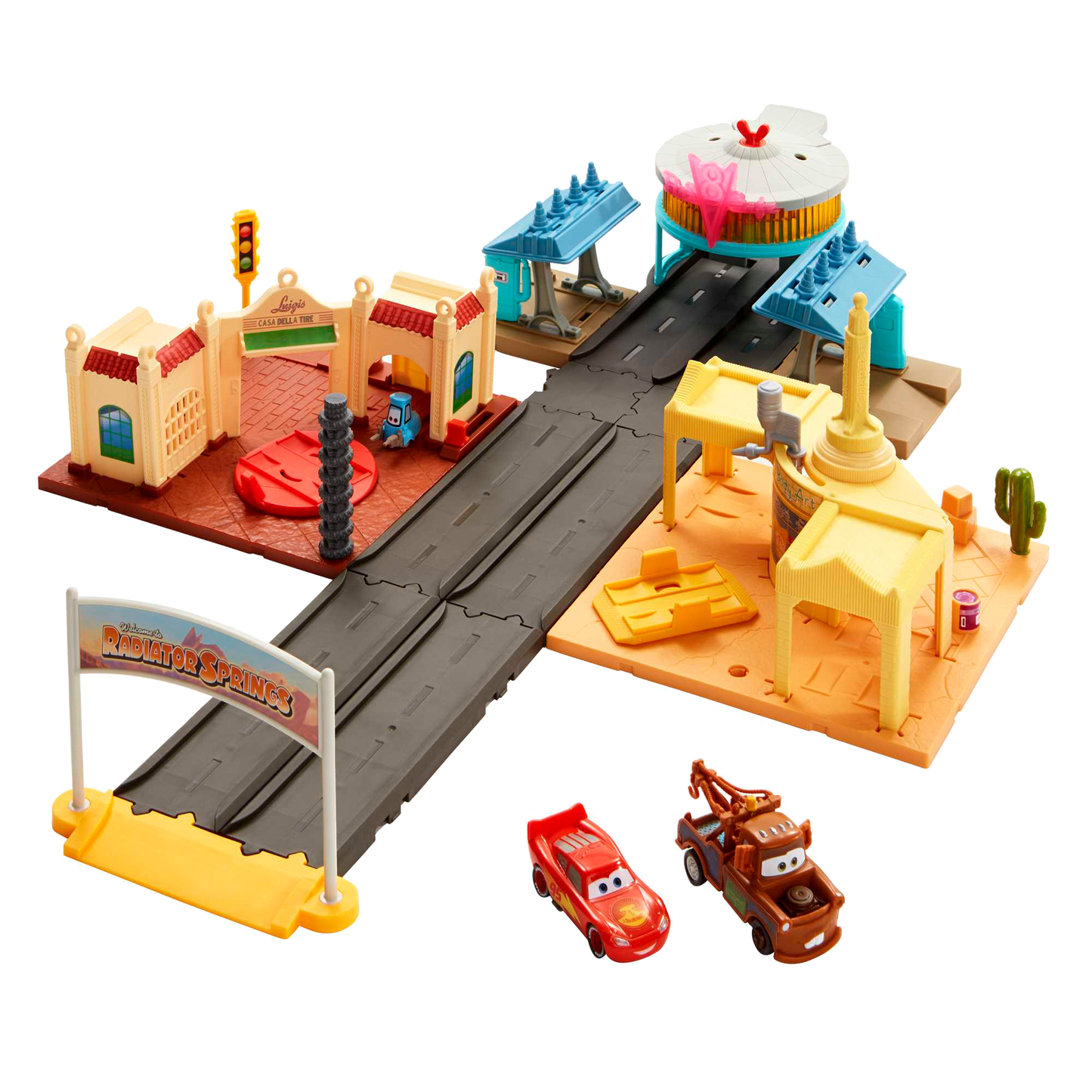 Subscribe & save 10% on your first order
Free Shipping on orders over $65
Total 5 star reviews: 15
Total 4 star reviews: 7
Total 3 star reviews: 3
Total 2 star reviews: 0
Total 1 star reviews: 0
Love T.

Verified Buyer

Good sturdy fun toy.

This is a very exciting toy.

My kids love it, from the minute they saw the picture on the box they got so excited.

It is fun to put it together and to play with it, one of the things my kids love about it is the fact that it can be put together many different ways so they are not getting bored of it.

Also, the cars are very good quality that adds to the benefits.

Amanda3

Verified Buyer

It's a hit!

Both of my boys, 6 and 3 years old enjoy playing with this toy, but especially my 3 year old. It's a pretend Cars race track and it gets put together like a puzzle. You can buy more build on tracks to expand the set. It has some lights that go red, yellow, blinking yellow then green, then they hit the lever and the car zooms down the street. The only annoying part is that when I need to move it to another room it falls apart and I need to put it back together again. Although the fact that is comes apart easy might be a bonus for little hands to easily take it apart and put it together another way.

Bigmama423

Verified Buyer

Awesome Cars track, ours arrived damaged though..

This is an amazing little Cars track/station raceway for any little Lightning McQueen fans. First it comes packaged pretty great, there's a perforated easy to open tab which is great for kids to easily open on their own. Upon opening the box I'll admit I was a little intimidated by all the various pieces but instructions made this super easy to put together. The set itself comes with 2 larger cars and the tiny tire guy, any other hotwheels work great with it as well. There are lots of little extra touches and small details which make this set even cuter in my opinion. You can easily take the track apart and rebuild it however you'd like. There's a pretty neat little launcher that shoots the cars off like a little drag racing strip. The launcher is hidden in with the design of the building which I think is great too. The reason for only 3 stars, we were never able to put batteries in ours to see the lights in action. The screw was somehow stripped on the inside where the batteries should have gone. I made multiple attempts to unscrew the battery cover and could not it, the screw spins and spins yet never comes out. Other than this slight manufacturing error it is a great toy definitely held my sons attention but I'm sure it wouldve been an even bigger hit if we could have got all the features to work.

Shop Mattel Australia

1 year ago

Sorry to hear about the battery door/screw. Please reach out to our Customer Support team for help: https://shop.mattel.com.au/pages/contact

IanD

Verified Buyer

My sons new favorite toy

My son is having a blast with this awesome Cars track! He gets to play with his favorite characters from the awesome Disney and Pixar movie! This is easily his favorite toy now. It's durable for long hours of play. You know how tough boys can be. The cars themselves are awesome and detailed as well.

Muemoyre

Verified Buyer

played with once then left on the floor..

This product was fairly easy to put together and launching the two cars down the track to race was nostalgic for me watching the movies but not as entertaining for a child. After it was put together and my child realized all he could do with one set was press the button for countdown lights and launch the cars he was disappointed and bored. Cost to fun ratio just is not there, the pricepoint is steep when you need more addons to make the experience more enjoyable.
Reviews Loaded
Reviews Added